There are secrets that are waiting for us to find out. Things that might make us view our life, some event, or a place differently. And in the happiest place in the world, there are lots of secrets worth discovering. These are some things that might make our tour a lot better or will make us see something that we never knew existed.
Disneyland is a place often packed with people so most of the time, visitors tend to just fall in line or roam around the whole day for them to be able to savor every minute of their tour. And with that, they tend to miss out on some things or events in the park. But for frequent visitors and those who can visit the place several times and any time, they have a tendency to see things that other tourists can't. And most of this people are the locals- those residing near the place and can walk around the park without worrying much about the passing minutes because they can go back when they want to. Well, the passes might be expensive for some, but the fact that they don't need to travel far or spend too much on transportation gives them a step ahead.
Some of the locals and frequent visitors discovered several things around the park and tricks that might help you in your next visit. We have read several article about these things and compiled it in today's list. So, here are 30 Disney secrets that only locals know.
Ride Lines Are Open Until Close
The statement might be weird but yet it's true. The park closes at 10:00 PM but there are rides that have 30 minutes wait and you can still hop in line. One ride that sure has that as long as you fall in line by 9:50 PM is the California Screamin'. With this, you can go and try other rides first and make this last on your list.
Go Single-Rider
Well, most of us go to the park with friends and usually we want to ride with them. That's the reason why the lines are usually long. But are you aware of the single rider line? If you are and you do not mind seating with a stranger as long as you can try as much ride as possible, then stand in that line.
You Can Hold FastPasses for Both Parks at Once
If you think you can handle trying out both parks in one day then you better get FastPasses for both parks. Yes, you can do that and that will let you save some of your time. You know how long those lines can get right?! With this passes, you can try rides in Disneyland and California Adventure in a day!
You Can Get New FastPasses Every Two Hours
https://tripswithtykes.com/10-differences-between-disney-world-and-disneyland-how-they-matter-for-your-vacation-planning/
Having a FastPass is a great opportunity that you wouldn't want to miss. But, some thinks that the only FastPass you can have was the first one given. Yet, you can actually get FastPasses every two hours even if you still haven't use the other. Like, if at noon you still have a FastPass that is not valid until 6:00pm, you can get nother FastPass at 2:00 pm. Prioritize FastPasses on your most favorite rides.
When A Line Splits, Go Left
This is not just good for lines inside the park but it can also be effective in concerts, malls, restaurants, etc. Why? Because it's in our instinct to go right so lines on the left and shorter until people notices it. But, the line in Pirates of the Caribbean, where the actual pathway and line is longer on the left side.
Go to Fantasyland Right at Open or After Fireworks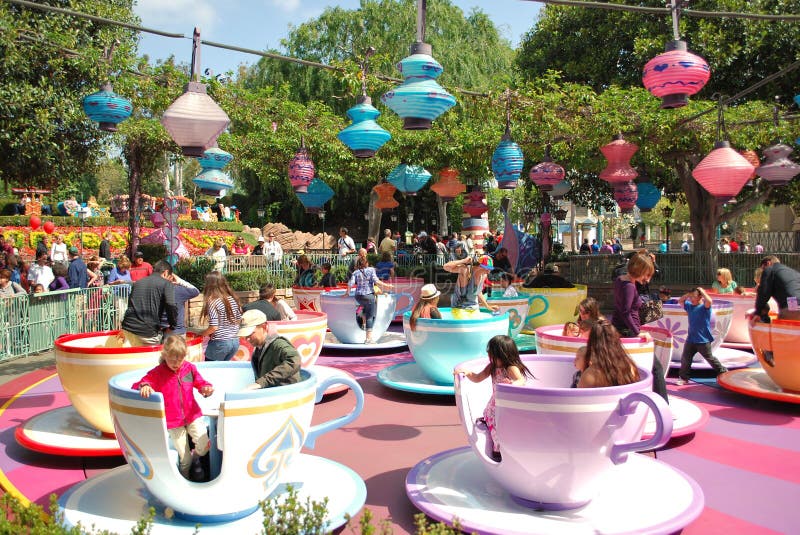 https://www.dreamstime.com/stock-photography-tea-cup-ride-fantasyland-disneyland-ca-california-bright-sunny-day-image30416302
If you want to ride on almost everything inside the park, you must put the ride on Fantasyland first or schedule it after fireworks. Fantasyland don't usually offer FastPasses so you really need to stand in line. The best time is right from opening because lines are just starting to build up. And run after the fireworks while other visitors are still mesmerized with what they saw.
Use the Bathrooms by the Enchanted Tiki Room
https://bunnynet.org/2014/11/
Everyone needs to go to the bathroom from time to time and in Disneyland lines in the bathroom might be as long as the lines for the rides. So, if you want to find a shorter line, then go to the Enchanted Tiki Room and look for their Bathroom. This has shorter line because it can really be hard to find.
If a Show or Parade Has Two Night Showings, Go to the Second
https://disneyland.disney.go.com/entertainment/disneyland/mickeys-soundsational-parade/
The first show are usually crowded. Not only because most of us wants to go first but also because people tend to be too excited on everything that is happening. With that, this will also be the best time for you to try some rides.
Bring Your Own Food
This is really not a secret but something that you can keep in mind. Food inside the park can be very attractive but it can also be too expensive. If you want to try some, feel free to do so but if you want to feel full without emptying your pocket, better bring your own.
Stores Are Open an Hour After Closing
If you are planning to buy some souvenirs, you do not have to hurry because the stores inside are open even an hour after closing. This can also help you choose what you will buy because there are fewer people buzzing around.
Buy Dole Whip In the Entrance to the Enchanted Tiki Room
https://www.pinterest.co.uk/pin/472666923367011038/
Dole Whip is one of the must try treat offered in Disneyland. While you're walking around the park, you will see long lines of people who want to get this frozen treat. But, Tiki Room is really a helpful place because if you do not want to stand in long lines but you want to try this Dole Whip then go to this place. We are not really sure why but the lines in this area is almost half the size than the others.
Download Apps Before Getting to the Park
http://babesindisneylandblog.com/everything-parents-need-to-know-about-the-disneyland-app/
Did you know that there is such a thing as a Disneyland App? If you don't then download it before your trip so that you can easily see the waiting time in each ride and where to find your favorite characters. This will let you know which ride is best to ride first.
The Best Spot to Meet Mickey Mouse is in Toontown
People usually buzz around Mickey Mouse once they saw him in the park. That's why it is really hard to get a chance to have a picture with him. But, if you really want one, then you must wait for him in Toontown. The line is usually not too long and it's air-conditioned so you will really feel comfortable.
The Best Castle Photo Op is to the Right Side of the Castle
We actually saw two tips in having a photo with the castle on the background. The first is choose the backside because there are fewer people but is equally as beautiful as the front. But, if you really want a photo of the front side of the castle, then go to the right and get a full castle in the shot, there are fewer distractions in the background, and most importantly, there are fewer people around.
Arrive 15 minutes before the park opens
https://www.mouseplanet.com/9571/The_Magic_Kingdoms_Most_Magical_Moments
If you want to see all the show in the park, then better go early so you can see the Train Station Welcome Show! This will be a great way to start your entire trip in the park plus the energy of the show will surely boost you up!
PhotoPass Cast Members will take free photos of your family with your camera or phone
Anywhere we go with our family, we usually want to have our photos taken especially a photo with everyone on it. But, that can be hard if you do not have a tripod and can be unsafe if you do because someone might bump into it. No worries, the PhotoPass Cast Members can take free photo of your family using your own camera. You will also be sure that they won't run away with your phone or camera.
There is a special flag located in a window on Buena Vista Street.
http://pixiepranks-panstinkerbell.blogspot.com/2012/06/buena-vista-street-entrance-way-to-walt.html
If you are walking around the Buena Vista Street and you happen to see a flag, better take a photo because this is not an ordinary flag. This is a special flag because it only has 48 stars in it! This is because during July 4, 1912-July 3, 1959 the United States flag only had 48 stars and Buena Vista Street has a 1920's and 30's theme to it.
There is something shaky about the Pacific Wharf
https://disneyland.disney.go.com/au/disney-california-adventure/pacific-wharf/
If you are standing in the Pacific Wharf and you felt that something is shaking, you do not have to panic because it was really designed to vibrate a little but not too often. This is to emulate a Californian earthquake.
There is a hidden character in the Monsters Inc. ride.
If you are planning to take the Monsters Inc. ride, then you must look out for something unusual. There is a hidden character that you might not easily notice. You will see it behind Harry Hausen's Sushi Chef. The character that you will see is Nemo. Go check it out!
The countdown voice sounds familiar on Screamin'.
https://www.ocregister.com/2018/03/12/see-how-california-screamin-is-becoming-the-incredicoaster-at-the-disneyland-resort/
Are you taking the roller coaster in Screamin' or you have tried riding it? Do you think that you heard a familiar voice? Do you think that you heard Barney Stinson? Well, that's right because Neil Patrick Harris is the voice behind the ride's countdown!
There is a hidden character in Ariel's Under Sea Adventure
https://wanderwisdom.com/travel-destinations/20-Secrets-You-Dont-Know-About-Disneys-California-Adventure
There's another character that you should find in another ride. This character is not a Disney Character and is hiding in Ariel's Under Sea Adventure. This character is Mr. Limpet! You will see him towards the end of the scene where Sebastian is trying to convince Ariel that life is the bubbles under the sea if you look on the right hand side by the rocks in the background.
You can get free Wifi in a certain part of the park
If you want to post some of your photos right away, then the best location for you to be able to connect to the internet is near the Grand Californian Hotel. You can connect to their free Wifi. But, please don't let the internet take you away from enjoying the park!
There's a members-only lounge next door to the Carthay Circle Restaurant
If you are a member of Disney's Club 33, the you are pretty lucky because you can escape from the crowd and rest inside the lounge next to Carthay Circle Restaurant. Here, you can sit down and you can order cocktails from the vintage-styled bar or a portable martini cart.
There are super-boozy, off-menu drinks at the Cove Bar
https://www.businessinsider.com.au/disneyland-bar-with-secret-drinks-2016-7
Cove Bar is a place to try unique drinks inside the park and once you are there you might want to try their three off-menu drinks that's subject to availability. This are the classic Zombie which is made with multiple rums, liquors, fruit juices, the Black Pearl- essentially a Long Island Iced Tea, and Mickey's Fun Wheel, which is sort of like between an AMF and a tequila sunrise, with the added artistic bonus of lemon slice garnishes that look like Mickey ears.
Ariel's sisters are hidden above the Little Mermaid ride
There are a lot of things that you can find in all the rides with Ariel. In the Little Mermaid ride you will see all of Ariel's sister. All six of them are carved into the façade. There's Aquata, Andrina, Arista, Attina, Adella, and Alana.
The Red Car Trolleys are battery powered; the overhead wires are an illusion
https://mintcrocodile.blogspot.com/2013/06/all-aboard-for-first-day-of-summer-at.html
Who has been fooled by this Red Car Trolley? Well, that's okay, most of us were. The Overhead wires that seemed to be the source of power of the trolley is just for show. It's something that made it look old and like the actual carts used many years ago.
The Twilight Zone Tower of Terror is one of the tallest buildings in Anaheim
https://scarepop.com/2016/05/07/guardians-of-the-galaxy-might-take-over-the-tower-of-terror-at-disney-california-adventure/
This tower will not just make you scream because you are scared but it can also make you feel the chill of being in the highest building in town! This is 183 feet and had surpassed all the other corporate buildings in the city.
There are outlets where you can charge your phone for free
It is advisable that you bring your portable charger with you- powerbanks per se. This is because your phone will surely run out of charge with all the picture and video taking that you will do. But if you forgot to bring your powerbank, you do not have to worry as long as you have your usual charger. There are charging lockers that you can rent of you can simply find these outlets where you can charge for free! Click here for the list.
Places where you can smoke
The place is a no smoking zone. This is to give respect to all the people around. Plus, there are some who gets asthma attacks once they inhaled cigarette smoke. But, if you really can't resist smoking, then go and find the areas where you can smoke. Click here for the list.
There's a shortcut to Cars Land
If you want to take the fast way to the Cars Land and be able to take the rides their faster than others, then you can take the shortcut. Go through the patio at Pacific Wharf and walk through the rock arch. You'll enter Cars Land next to Radiator Springs Racers and get a gorgeous view that looks like a scene from the movie.
This is all for now and there might be something hidden inside Disneyland Park that is waiting for us to find out! But if you discovered it first, please do share it with us so we can make each other's trip better next time! We hope you enjoy and got something new with this list. See you in Disneyland! Make your stay  fun, exciting and memorable!